Client: Diana's Oyster Bar & Grill
Diana's Oyster Bar & Grill was opening it's doors for the first time but wasn't near ready from a branding standpoint. All they were equipped with, was a logo. They were in need of a complete brand development, everything from menu covers and inserts, to take-out menus, and even a website.
Uncorked Media has a strong relationship with Diana's Seafood, so it was an easy choice for the client to choose us to Brand their new Restaurant. The first request from the client was to have a look and feel that represented the Diana's Brand but still had it's own identity as the Oyster Bar & Grill.
The groundwork we laid out when building the Diana's Seafood Brand in previous years gave us a starting point from which we drew our direction. The first item that needed attention was to make sure that when the doors opened, there was a menu for the customers to look at. So we took to the drawing board to come up with a layout that was easy to follow and easy to read. As many of the patrons at Diana's Oyster Bar are elderly, we ensured to make the font size slightly larger than average to make it easier on the eyes.
The website we designed and developed was the one brand touchpoint that differed completely from Retail to Restaurant. We wanted to take the in-house dining experience and bring it online, something simple, clean and elegant for users to browse through. We provided the complete Product Photography for their food menu, and just by looking at the photos it makes you hungry.
Branding
Web Design
Printing
Web Hosting
Email Marketing
Product Photography
Graphic Design
Dinner Menu Design
P.O.S. Design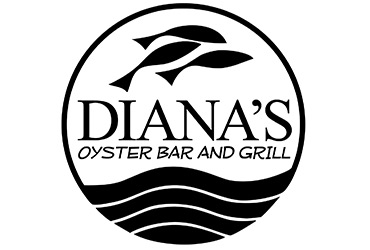 Diana's Oyster Bar & Grill is a hidden gem in the heart of Scarborough. A sister company to Diana's Seafood, the retail and wholesale supplier of the freshest seafood in the GTA, the Oyster Bar Restaurant spares no expense in providing the same great quality products.
The Oyster Bar is known for it's great selection of Oysters that are shucked right in-front of you, all-the-while their educated staff explains the origins and uniqueness of each oyster.
"We knew Uncorked Media from the work they did for Diana's Seafood. When we started planning for our restaurant it was a no-brainer who we would hire to help us create our image. They planned everything to the 'T' from the ground up, provided us with breakdowns, concepts, templates, visuals, mockups and anything else we needed.
When we need things done on short order, they step up to the plate and hit one out of the park every time. Being able to rely on an organized, professional and reliable agency makes us sleep easier at night. Uncorked Media is Diana's Oyster Bar agency of choice, knowing they can handle whatever we throw at them. FOOD FIGHT!"
Diana's Oyster Bar & Grill is a restaurant that is constantly expanding. In under 2 years it underwent renovations to increase it's seating size to accommodate more patrons. We like to think that a small part of this growth has to do with Uncorked's ongoing Brand Management service. Since before opening it's doors in 2010, we've been building Diana's Oyster Bar's Brand Identity with various touch points and marketing efforts.
With each new monthly special or new additions to their already satisfying menu, we provide frequent updates to the major social media outlets and send out an appetizing newsletter to it's 1000+ subscribers. Uncorked takes photos of all new menu item and stores them on a safe and secure database for easy access and future usage.
Don't let your content get stale and your company's image go forgotten. Uncorked Media provides a monthly service plan to manage your brand's image and continue to grow it on an ongoing basis.