An old brand in need of new life. That was the pitch we were given when introduced to Diana's Seafood. Their reputation was remarkable, but it's brand Identity was nonexistent, it's continuity and integrity were minimal at best. They needed to modernize themselves and become more current with it's customers without losing the "personal" touch it was known for.
Back in 2008 Uncorked Media was offered the opportunity to re-brand Diana's Seafood and we jumped at the opportunity. We saw tremendous potential for this project and knew it would be a great milestone for us, so we seized the moment.
To develop a strong Brand Identity, we performed an in-depth investigation of all existing brand touch points. The first item on the to-do list was a very quick website re-boot, which was severely outdated and losing massive amounts of traffic in the process. To date we have performed 3 overhauls of the Diana's Seafood website in the last 6 years, keeping it up to date with the latest technology.
Diana's logo also went through some changes over the years, finally resting on a simple and modern look. The new logo is simple enough to apply to various products without needing any manipulation. Uncorked has created an enormous amount of marketing and corporate communication material over the years such as, banners, flyers, posters, brochures, display stands, vehicle decals, labels, packaging and more.
Our most recent task involved cataloging Diana's in-store inventory of over 500+ products and showcasing them online. This involved taking photos, creating descriptions of each product and categorizing them for customers to browse easily and effectively.
Branding
Consulting
Web Design
Printing
Web Hosting
Email Marketing
Product Photography
Graphic Design
Logo
Package Design
P.O.S. Design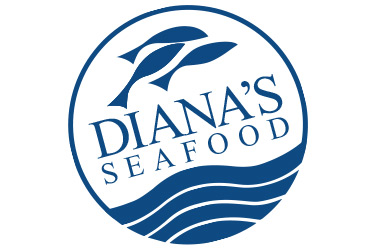 Diana's Seafood is Toronto's finest retail and wholesale fish market and offer a vast selection of fresh fish from all over the world. Its wholesale distribution centre caters daily to the varied needs of many of Toronto's best hotels and restaurants.
It's retail store, located in the heart of Scarborough is always buzzing with customers looking to get their seafood fix. They have become popular most recently for their large oyster variety and oyster catered events.
"We've been working with George and Uncorked Media for the last 5 years now and we couldn't be happier with their work. You'd think after so long, that their ideas and designs would run flat and boring. Quite the opposite actually, they continue to surprise us with new and exciting ideas, their designs hit the mark every time and there doesn't appear to be any slowing down.
We originally selected Uncorked Media 5 years ago based on their reputation and strong brand strategy and design experience. They work fast, produce top quality work, and are always on standby for whatever i need. They're an absolute pleasure to work with, and let me tell you, these guys are good."
Chris Pipergias General Manager
Since 2008 we have worked closely with Diana's Seafood, building their brand and increasing their bottom line through a series of various marketing efforts. in 2 short years we built a newsletter subscription base from 0 to 5000 users. We provide a weekly newsletter delivery highlighting the latest offers and upcoming events, in addition to educating their customers with fun fish facts and tips on how to properly prepare, season and cook many of seafood products.
The Diana's Seafood website and social media outlets are continuously updated to ensure it's content is fresh and relevant, much like the products they sell in-store. Keeping Diana's brand current is a high priority as it is in any industry with many levels of competition.
Don't let your content get stale and your company's image go forgotten. Uncorked Media provides a monthly service plan to manage your brand's image and continue to grow it on an ongoing basis.