"All of our marketing looks like it comes from different companies, we have no visual consistency. We have such a unique establishment and we need to reflect that in everything our patrons touch." Feeling tired of it's outdated and inefficient look, Pravda Vodka House needed a fresh update to go with it's new renovations.
Our approach to Pravda was to bring it's unique experience to the hands of the customer in a minimalist manner and highlight it's key features. We provided a redesign of the brand's core materials and promotional items to have a more consistent image.
Pravda's website was severely outdated, not user friendly, and not nearly mobile ready. We changed all of that and added much more with a complete redesign and minimalistic layout. We brought their drink menu online allowing customers to browse Pravda's vast collection of Vodka at their leisure.
The team at Uncorked had the idea of unifying the website online menu and in-house menu so that users would know what they were looking at when they come in after looking online. We recreated the menu covers and billfolds with new logo embossing, and created freshly designed inserts.
Branding
Consulting
Web Design
Printing
Web Hosting
Email Marketing
Product Photography
Menu Design
Graphic Design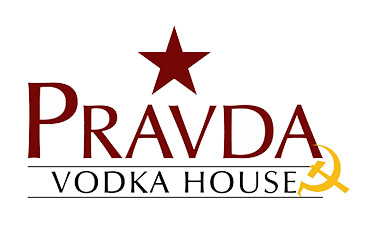 In the nine years since opening, Pravda Vodka House has gone from a simple idea to a revolution and inspired a new appreciation for vodka. They are a leader in the unique experience of offering vodka tastings and food pairings in a Russian inspired atmosphere.
Through their one-of-a-kind vodka cellar which houses +70 of the world's best vodkas to their Louis XII décor, you will expand your vodka horizons and be well on your way to becoming a vodka connoisseur.
"Our website was in need of serious attention, so we called George at Uncorked Media to ask for help. Was that ever the right decision!! George spoke with us about what we would like to see updated and changed, then started sending ideas for our consideration almost immediately.
George understood the direction we wanted to go and turned our thoughts and suggestions into reality. Everything was accomplished quickly and efficiently with an end result that is even better than anything we had imagined. Because of the great success of our website we've hired Uncorked Media for all of our Marketing needs and working with them has been a pleasure ever since.
Thank you so much for your expert knowledge and creativity!!"
Stephanie Townsend General Manager
Uncorked has had the pleasure of providing Pravda Vodka House with ongoing Brand Management for the last few years and we've developed a strong relationship together. We've had the pleasure of working on some exciting projects including a Russian inspired "Mad Hatter Tea Party" and a "Sputnik New Year Party". We provide designs for all types of events and notifications and also the printing.
With each new announcement we create we promote it on the website as well. We keep track of all reservations and ensure that the website is always up and running so that they don't miss a single request. As with any restaurant or bar it is constantly changing, upgrading menu items, introducing monthly or seasonal specials, and we provide quick turnarounds from concept to production.
Don't let your content get stale and your company's image go forgotten. Uncorked Media provides a monthly service plan to manage your brand's image and continue to grow it on an ongoing basis.